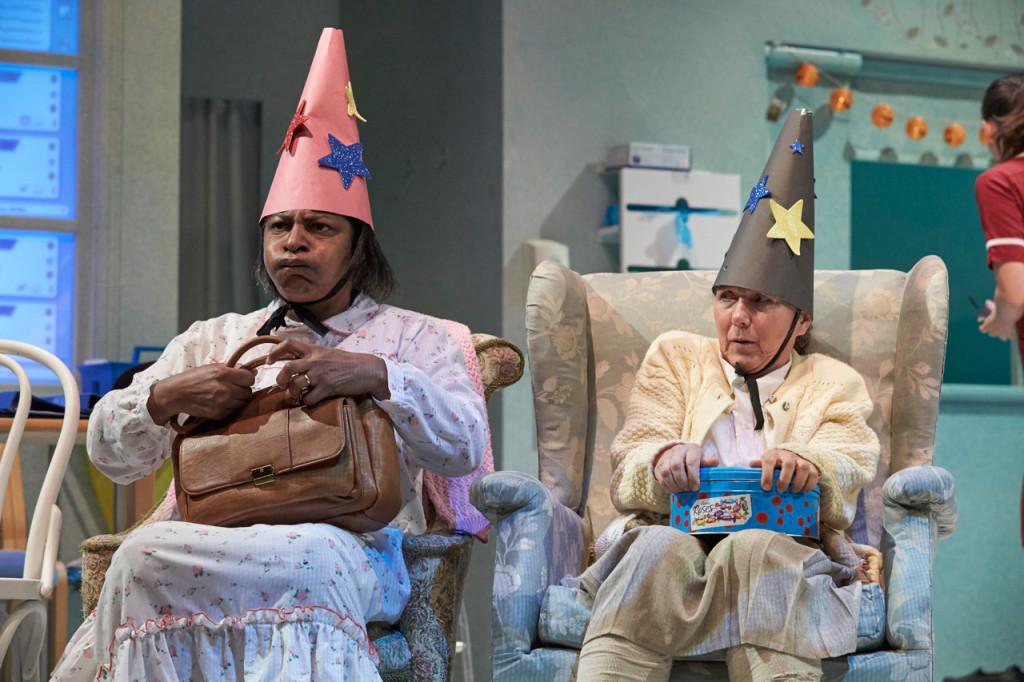 Please vote for us!
We are thrilled and very proud to announce that Lakeside and Meeting Ground Theatre Company's production of Inside Out of Mind has reached the finals of the National Lottery Awards – an annual search to find the UK's favourite Lottery-funded project.
We are competing against six others to be crowned the winner of the Best Arts Project category.
We would love for you to vote for us.
Darkly comic and offering glimpses of a world of multiple realities for those who are living with dementia, Inside Out of Mind enters into the experience of dementia care. Tanya Myers' insightful play was based on extensive research undertaken in local dementia wards, and was first performed to considerable audience acclaim at Lakeside in 2013. Inspired by the initial success of the production and the demand from audiences for it to be shown more widely, an application was made to the Arts Council Strategic Touring funding to tour the production nationally in 2015.
Thanks to our successful lottery funding bid, Inside Out of Mind was performed again in Nottingham and toured to five other cities – Exeter, Canterbury, Warwick, Derby and Leicester, and it has now been seen by 7,000 people, including many working in the health care sector.
There are 1.7million more people over the aged of 65 than 25 years ago, and the number of people over the age of 85 has doubled in the same period. However this has resulted in a commensurate increase in dementia in its many forms. This play has powerfully touched the hearts and minds of everyone who has seen it, and has focused our attention most particularly on those who care for people with dementia.
How to vote
A vote for Inside Out of Mind isn't just a vote for the play, it's a vote and a thank you for every carer of someone with dementia – NHS or care worker, family member or friend. They are the real heroes.
It's really easy to vote – just go to www.lotterygoodcauses.org.uk/awards or telephone 0844 836 9708 and follow the campaign on twitter: #NLAwards.
The winner is decided entirely on who receives the most public votes, so it would be great if you could encourage your friends and family to vote too.
Voting runs for five weeks from 9am on Wednesday 24 June until midnight on Wednesday 29 July. Winners will be announced in August with an awards ceremony screened on BBC One on 21 September.
Telephone voting calls cost 5p max (a connection charge may be applied by some networks. Please check with your provider.)
All voting will be independently adjudicated and verified by Electoral Reform Services.
What our audiences had to say
"You gave a true story of what life is like for a dementia patient. I cried, found it so true and emotional." – Audience Member 2015
"Compelling performances from a strong cast powerfully invoke understanding of just how important it is to see people with dementia as individuals with rich life experiences. Everyone should see this deeply moving play." – Audience Member 2013
"A strikingly powerful production: sometimes harrowing, sometimes humurous, but always sensitive and sharp in its insights into the lives of carers and cared-for. It is educational, thought provoking and bursting with emotion." – Professor Sir David Greenway, Vice-Chancellor of The University of Nottingham.
"Inside Out of Mind is a memorable, clever and moving theatre performance, enjoyable even in its hardest moments." – Parliament of Dreams