A National Lottery Awards finalist in the Best Arts Award category, Inside Out of Mind is a powerful piece of theatre rooted in academic research undertaken in dementia care wards. The play focuses on those who care for people with dementia, and such was its impact following a 2013 premiere at Nottingham Lakeside Arts that a partnership of Nottingham Lakeside Arts, Meeting Ground Theatre Company and the Institute of Mental Health successfully applied for Strategic Touring Funding and toured the production nationally in 2015.
One legacy of the theatre tour was the creation of a live recording of the theatre production, filmed by We Are Caravan. Over the next 12 months the film will be screened before audiences of NHS professionals where it is being used as a training and awareness-raising tool.
Background Information
Inside Out of Mind is a play based on research in dementia care wards, developed into a powerful and successful theatre production by Writer and Director Tanya Myers and Meeting Ground Theatre Company. It premiered at Nottingham Lakeside Arts in 2013 to such a positive audience response that a successful funding bid was made to the Arts Council to revive the play. In 2015 it toured to Canterbury, Derby, Exeter, Leicester, Nottingham and Warwick. It has now been seen by more than 7,000 people to great acclaim. Its inclusion as a finalist in the 2015 National Lottery Awards under the Best Arts Project category has further raised awareness of the play's potential as a tool for education direct care workers about key issues in dementia services: remembering the person, preserving dignity, loss, grief, mutual support and the emotional toll of caring.
An Educational Opportunity
A planned legacy of the 2015 theatre tour was the creation of a live recording of the theatre production in order to continue to extend the educational potential of the show beyond the limited availability of the touring theatre production. The high quality recording is suitable for use in a cinema setting, and it is a condition of hire that each screening is followed by a facilitated post-show discussion as a minimum. This is because the production arouses a great deal of emotion amongst its audience who will want to discuss what they've seen, how it relates to their own experience, and to remark on what they see as good practice or not. Also it provides thinking time to begin to consider what they could take back to their workplace to change their own, or others' behaviours and working practice.
Costs
The number of screenings available is limited due to artists' rights, so (apart from existing bookings) we can offer only one screening per Trust or equivalent local authority area, and this must take place in the academic year 2015-2016.
The booker will need to hire a cinema with a projectionist; please note that many cinemas are very happy to hire their venue for daytime use.
Film hire, including a facilitator to support the post-show discussion is £500 + VAT plus expenses to include overnight accommodation if scheduling requires it. Sign language interpretation is available at additional cost.
How to Book
Contact Justine Schneider at Justine.schneider@nottingham.ac.uk to register your interest and a potential date for screening.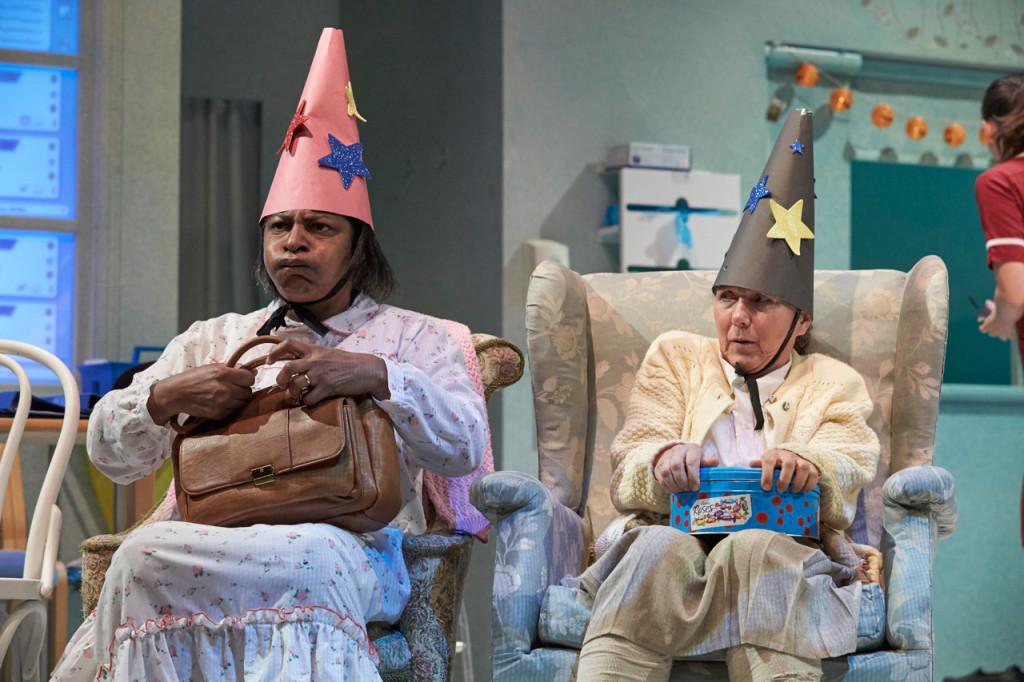 Self-Care For Direct Care Workers In Dementia Services
This online workbook base don Inside Out of Mind and funded by the RCN Foundation has four learning sessions designed to help direct care workers (health care assistants, nurses, care home workers) to reflect on some common issues that arise in dementia care by:
• Identifying feelings, beliefs, or attitudes that may affect caring relationships.
• Finding ways to reduce stress and prevent burnout.
• Using emotions at work effectively.
• Providing end of life care, dealing with death and afterwards.
Although individuals can complete the workbook on their own, much more will be gained by following the materials in a group, led by a skilled trainer or facilitator. We can recommend trainers if required.
The free resource may be accessed by registering and enrolling at:
www.idea.nottingham.ac.uk/courses
A 4 minute clip including comments from a Director of Nursing, Health Care Assistants and audience members:
IOOM was translated for the screen by production company We Are Caravan under the guidance of Producers Owen Davies & Andy Taylor smith, you can find more of their work here www.wearecaravan.co.uk and follow them here @wearecaravan.
Thanks to:
The Managed Innovation Network gratefully acknowledges the support of Broadway Cinema & Media Centre in commissioning the recording, and We Are Caravan who made the recording; and Arts Council England who supported the touring of the theatre production.